Hello there, I'm Audrey.
As you might know by now, at Bauana Hygge we embrace worldwide ethical and sustainable initiatives that may flourish if only we - the consumers - shift our attention in their direction. We'd be helping those communities just by purchasing what they produce. The products in our Knitting Collection are produced by such initiatives.
For starters, we're honoring a group of tough breeders from the harsh Mongolian Gobi desert. They ethically produce cashmere at well-selected, trusted and cruelty-free farms that follow the FTC Method by FTC Cashmere, Switzerland - which is in full compliance with our own sustainable proposition. And since almost nothing screams hygge loudly than this cozy hobby, those farmers deserve all our support and sponsorship.
By the way, everything you find here - from cashmere to cotton yarns, bamboo needles, etc. - are in full compliance as well, making us proud for including them in our catalog.
I'll be your host during your journey throughout our store. I love it, and I'll do everything possible to make you love it as well. Reach me here - and in the meantime have fun!
Cheers,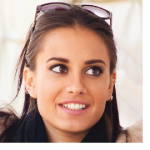 Audrey Hughes