Hello there,
Welcome to the new and exciting 'Custom Built 4U' collection!
We figured out - after you asked for it, of course - a cool way for you to uniquely express yourself. Yes, printing your message on a mug, a t-shirt, a tote bag, etc.
We have a variety of images you may choose, or upload your own - 100% unique - art for us to print. From 'Peace on Earth' or 'Save the Pandas' on a t-shirt... to 'Not for Idiots' on a tote bag.
Your imagination may fly... we'll capture it on a cool printed message!
Cheers,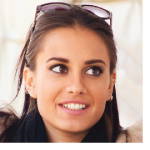 Audrey Hughes